Boruto: Naruto Next Generations: S1 - Ep. 10
The Ghost Incident: The Investigation Begins!
Boruto: Naruto Next Generations – Boruto telah melewatkan kelas di akademi bersama dengan Shikadai dan Mitsuki untuk menemukan seseorang yang dirasuki oleh bayangan misterius. Ketika dia kembali ke rumah, dia tahu bahwa Hinata tahu tentang dia bolos kelas. Keesokan harinya, Hinata bertemu Shino di akademi di mana dia memberi kuliah kepada Boruto bahwa dia akan berakhir di sesi les sekolah setelah sekolah jika terus bolos kelas. Kemudian, Shino memberi tahu kelas bahwa mereka akan melakukan pengalaman kerja, dan siswa memiliki kebebasan untuk memilih tempat kerja yang mereka inginkan. Boruto, Shikadai, dan Mitsuki memilih Kantor Pos sebagai tempat kerja mereka karena ini memungkinkan mereka untuk berkeliaran di sekitar desa untuk menemukan bayangan misterius. Kemudian, setelah mengirimkan beberapa surat, Boruto bertemu Naruto dan Naruto mengatakan kepadanya untuk mengirimkan surat dengan hati-hati; Boruto mengabaikan ini. Mitsuki mengatakan kepada tim bahwa ia telah menemukan seseorang yang dirasuki bayangan misterius di sisi lain desa, upaya untuk mencapai sisi lain kota menghabiskan chakra mereka. Di kantor Hokage, Sai melaporkan Naruto bahwa ia telah menemukan bukti penggunaan Gaya Kayu di lokasi di mana orang-orang kesurupan, dan menyarankan bahwa anggota Yayasan yang dibubarkan mungkin berada di belakang ini. Naruto menyarankan Sai untuk berhati-hati tentang hal ini jika anggota Yayasan terlibat. Kemudian ketika Naruto sedang mengemas pakaian cadangan untuk kantor, Hinata membantunya berkemas sementara dia mengatakan kepadanya bahwa karena dia menghabiskan masa kecilnya tanpa ayah, dia tidak tahu bagaimana harus bertindak seperti itu; Hinata meyakinkannya bahwa Boruto memahami perasaannya. Keesokan harinya, ketika Boruto, Shikadai dan Mitsuki kembali ke Kantor Pos, Kepala Biro Komame memberi tahu mereka bahwa ia mendapat keluhan dari semua tempat di mana Boruto mengirim surat kemarin; sebagai hukuman ia memerintahkan mereka untuk menghitung prangko alih-alih mengirim surat. Kemudian, Boruto menonton berita yang menunjukkan seseorang yang dirasuki oleh bayangan. Boruto melihat bahwa orang itu telah membarikade dirinya di Pabrik Pemurnian Air tempat Sumire dan dua gadis lain dari kelasnya pergi untuk pengalaman kerja mereka; Boruto bergegas menyelamatkan mereka.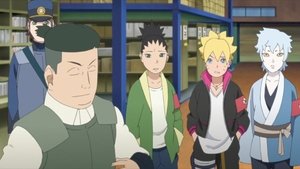 Jun. 07, 2017
1 - 1

1 - 2

1 - 3

1 - 4

1 - 5

1 - 6

1 - 7

1 - 8

1 - 9

1 - 10

1 - 11

1 - 12

1 - 13

1 - 14

1 - 15

1 - 16

1 - 17

1 - 18

1 - 19

1 - 20

1 - 21

1 - 22

1 - 23

1 - 24

1 - 25

1 - 26

1 - 27

1 - 28

1 - 29

1 - 30

1 - 31

1 - 32

1 - 33

1 - 34

1 - 35

1 - 36

1 - 37

1 - 38

1 - 39

1 - 40

1 - 41

1 - 42

1 - 43

1 - 44

1 - 45

1 - 46

1 - 47

1 - 48

1 - 49

1 - 50

1 - 51

1 - 52

1 - 53

1 - 54

1 - 55

1 - 56

1 - 57

1 - 58

1 - 59

1 - 60

1 - 61

1 - 62

1 - 63

1 - 64

1 - 65

1 - 66

1 - 67

1 - 68

1 - 69

1 - 70

1 - 71

1 - 72

1 - 73

1 - 74

1 - 75

1 - 76

1 - 77

1 - 78

1 - 79

1 - 80

1 - 81

1 - 82

1 - 83

1 - 84

1 - 85

1 - 86

1 - 87

1 - 88

1 - 89

1 - 90

1 - 91

1 - 92

1 - 93

1 - 94

1 - 95

1 - 96

1 - 97

1 - 98

1 - 99

1 - 100

1 - 101

1 - 102

1 - 103

1 - 104

1 - 105

1 - 106

1 - 107

1 - 108

1 - 109

1 - 110

1 - 111

1 - 112

1 - 113

1 - 114

1 - 115

1 - 116

1 - 117

1 - 118

1 - 119

1 - 120

1 - 121

1 - 122

1 - 123

1 - 124