JoJo's Bizarre Adventure: S1 - Ep. 17
Laying Some Elaborate Traps!
JoJo's Bizarre Adventure Sub Indo – Lisa Lisa explains to Joseph and Caesar how the creator of the Stone Mask, Kars, is seeking a perfectly cut Red Stone of Aja known as the Super Aja to power the Stone Mask and become the ultimate lifeform. When her assistant Suzi Q comes in with a ruby necklace, Lisa Lisa reveals she herself possesses the Super Aja, capable of amplifying the light of the sun into a powerful beam. Joseph says they should destroy the stone, but Lisa Lisa reveals that even though Kars seeks it out the Super Aja is needed to defeat the Pillar Men, as well. With a week left until the rings inside Joseph dissolve and kill him, Lisa Lisa pits Joseph and Caesar against Loggins and Messina respectively for their final lesson. However, when Joseph reaches his destination, he finds Loggins has been killed by Esidisi. Angered, Joseph decides to confront the Pillar Man over a bed of spikes. Thanks to an intricate trap, Joseph manages to use a wire set-up on Loggins to sever Esidisi's arm. However, Esidisi manages to repair himself by taking Loggins' arm before attacking Joseph with his burning blood. Despite nearly falling for a trap himself, Joseph manages to ensnare Esidisi in conductive wool thread and hit him with the Ripple, managing to destroy him and retrieve his antidote, safely dissolving the ring around his neck. Relieved, Joseph heads back to the castle, unaware that Esidisi's brain is clinging onto his back.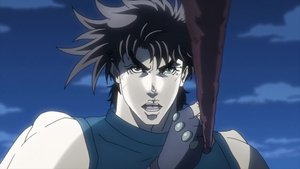 Feb. 02, 2013