Kuroko no Basket: S1 - Ep. 4
Take Care of the Counterattack!
Kuroko no Basket Sub Indo – Kuroko cedera di kuarter kedua saat pertandingan memaksa pemain tahun ke-2 menunjukkan chemistry tim mereka dengan tembakan dan pertahanan. Di pertengahan kuartal keempat Kuroko kembali dan memimpin serangan Seirin yang seimbang untuk mengikat skor. Dengan 12 detik tersisa, skor adalah 98 semua, dan Kaijo menguasai bola. Bisakah Seirin menemukan cara untuk akhirnya mengalahkan Kise dan Kaijo?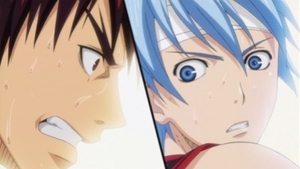 Apr. 28, 2012