Sewayaki Kitsune no Senko-san: S1 - Ep. 1
I'm Going to Pamper Him to His Heart's Content!
Sewayaki Kitsune no Senko-san Sub Indo – Sewayaki Kitsune no Senko-san – Di dunia roh, Senko telah mengambil tugas untuk mengawasi Kuroto Nakano dan memenuhi kebutuhannya. Setelah seharian bekerja, Kuroto berjalan kembali ke apartemen untuk mencari seorang gadis yang menyiapkan makan malam untuknya di apartemennya. Dia menariknya keluar dari apartemen, yang mengejutkannya, dia berjalan melewati pintu dan melihat aura di sekitar Kuroto. Senko melanjutkan untuk menyelesaikan membuat makan malam. Dia melayani makan malam Kuroto dan memperkenalkan dirinya sebagai periang. Dia mengingatkan Kuroto bahwa tehnya dingin. Mengingat ketika neneknya membuat teh untuknya. Kuroto bertanya pada Senko tentang ekornya dan ingin menyentuhnya. Dia tidur di pangkuan Senko, bermimpi pergi ke hutan dan tersesat meninggalkan sana. Sampai dia melihat seseorang dan berlari ke mereka dan menemukan nenek. Kuroto terbangun berpikir bahwa orang itu adalah Senko.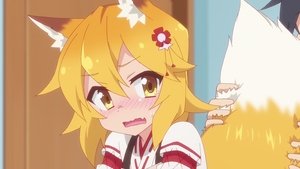 Apr. 10, 2019
1 - 1

1 - 2

1 - 3

1 - 4

1 - 5

1 - 6

1 - 7

1 - 8

1 - 9

1 - 10

1 - 11

1 - 12